The optimal sound quality of your home may not be the first thing that comes to your mind when you are moving in, but then sooner or later, you will become aware of its importance. Footsteps, heels, echoes from the TV, or any other unwanted reverberation of sound may disturb your comfort at home.
There are several factors that have an impact on the acoustics of your home or work area. One of the main elements is the type of flooring.
The acoustic properties of hardwood floors
Generally, there are three types of wood floors. One of them is the "least wooden" floor – laminate. It is very lightweight and hard at the same time, therefore barely absorbing sounds. Because of this, it produces the highest echo of all wood floors. Another type is engineered wood, which is thicker than laminate and does better at absorbing the vibration of your steps and reducing the echo.
The third and most valuable type is solid hardwood flooring, which has the best acoustic properties of all the above. Its density disallows for the annoying reverberation while its hardness distributes the sound more evenly around the room.
Installation method can affect acoustics
Besides the floor material, the type of installation also impacts acoustic quality. 
Floating floor installation produces the most noise because it does not involve adhesives. The boards are snapped together and therefore will likely produce some noise when stepped on. Engineered wood or laminate floors are typically installed this way. To avoid cracking noise, it is recommended to insert an acoustic underlay first, which acts as a cushion and absorbs the pressure and sounds of walking.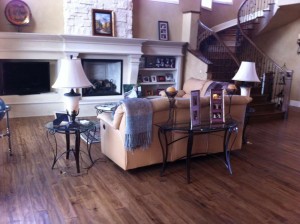 Hardwood solid flooring is usually either glued-down or nailed-down. The glued-down method (which can only be done above wooden or cement subfloor) is less noisy, but "echoes" equally as much as the floating type.
The nail-down method is the "quietest" type and best for room acoustics. It is firmer and more stable than the floating type, and the secured planks work together with the subfloor to minimize oscillation in movement and sound.
So, for a sound quality (in the literal sense), choose from our large variety of hardwood floors in our showrooms in Denver and Evergreen.