Choosing  Floor Vent Registers for Wood Floors
Floor vent registers must be installed in homes that have an HVAC system. In such a system hot air or cold air is redirected into rooms to warm-up or refresh the area via floor vent registers, which are primarily metal plates with holes or openings in them to allow this air to come through.
While metallic vents can be a practical way for keeping your house warm on a cold winter day, the coated metal drop-in vent registers installed by most HVAC contractors don't do much for your interior décor; especially when placed in that beautiful prefinished wood floor that was recently installed. However nowadays, standard sizes and styles can be found in many hardwood species: Cherry, Hickory, Maple, Walnut, Red or White Oak, or some exotics like Brazilian Cherry and Santos Mahogany. You can even find bamboo floor vents.
When installing new hardwood floors, you have two options, either flush or surface mount vent registers.
Flush Mount Vents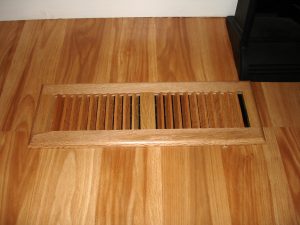 This type of vent provides a coherent transition and adds an unmatched sense of style. They are usually installed when the actual floor is in place but can be installed into an existing floor with careful precision. Next time you remodel your floors, check with your local flooring supplier for the best size and type that will best compliment your home style.
Surface Mount Vents or Drop In
Surface mount vents are a great alternative to replacing your existing setup. They are extremely easy to install as it will not require any cutting to be set up. Just replace the old vents with the correct size and drop them in. Don't forget to find out the right wood species and stain on your hardwood floors to match them up.
For all of your hardwood floor installation doubts and needs, T&G Flooring has you covered! Contact us for your next hardwood flooring project in Colorado.