Give your space an intriguing and exotic aesthetic twist with hardwood flooring from some tropic regions. Exotic wood flooring, as the name itself suggests, comes from different regions around the world – Asia, South America, and Africa. Because of their vast variety of color, shade, and graininess (or lack thereof), they can fit any style and space. The choice is truly great. Exotic wood floors are known for their rich and intense colors and their extraordinary hardness.
Don't let the name trick you into thinking that they are an expensive treat. The acacia, for example, is more affordable than the walnut floor.
The most popular exotic wood flooring
Acacia 
Originating in Asia and Africa, acacia is among the favorite of this type of flooring for its wide range of color shades from light to dark brown. Also, it has a unique, wavy grain and striking knots throughout that gives it a lively character and a sense of vibrancy to the room.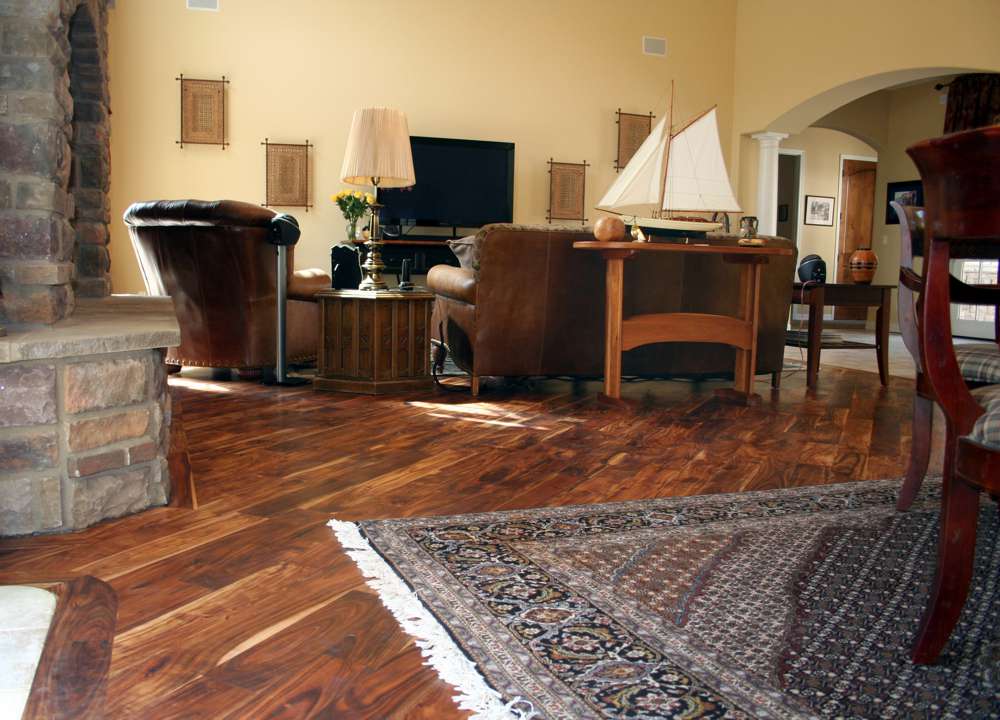 Check out our distressed acacia projects for extra inspiration.
Brazilian Cherry
This one should not be confused with the domestic cherry. The Brazilian cherry actually comes from the Jatoba tree in the South American forests. It is one of the hardest types of hardwood on the market. Its color ranges from orange-brown to deep red, sometimes with dark streaks. Due to the aforementioned hardness, this type of wood floor is an excellent choice for rooms with frequent traffic, such as kitchens, hallways, and staircases.
Despite its hardness, Brazilian Cherry is very photosensitive, meaning it can change color due to sun exposure after several months. Read more on how to prevent a rapid change in the shade and color of wood floors.
Other types of exotic hardwood include the Australian cypress, Brazilian ipe, and mahogany. Although it's a type of grass, some retailers like to refer to bamboo as an exotic wood type.
Exotic wood floors add a special value and beauty to your home, but you should also consider the width of the planks and the finish (glossy, transparent, etc.) for an overall effect. Call us or visit us for a free consultation!