Sometimes, the sheer number of choices you have to make when you want hardwood floors can be enough to make a person choose carpet. However, it's important to really think about each option. If you don't choose the right wood, the right finish, the right shape, and the right installation method for your hardwood floors, you're going to pay for it down the road. With any hardwood flooring project, consult with a contractor who can help guide you in the right direction. One of the first choices you need to make is prefinished vs. unfinished wood. So, let's start there.
Let time and budget be your guide
Choosing between prefinished and unfinished wood may come down to your budget and the timeframe for your project. Prefinished wood is often a little more affordable. It is a little quicker to install because you don't have to spend time finishing. However, other factors speak to the benefits of prefinished wood.
Benefits of prefinished wood
If cost or time isn't a factor, some may be concerned about the mess and the fumes associated with installing hardwood floors. However, when you work with prefinished wood, not only do you minimize the mess, but you also eliminate the finishing process. Many homeowners are concerned with the fumes associated with the finishing floors in the home, not wanting to expose kids and pets and themselves. However, we have water-based finishes that should eliminate this concern.
Benefits of unfinished wood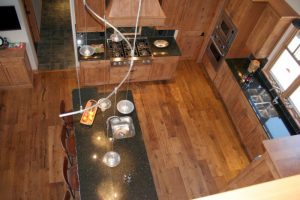 Some homes already have a distinct architectural style that you want to replicate with your floors. Unfinished wood is much more versatile in style, width, and length. With unfinished floors, you will have a greater variety of options. Plus, unfinished floors will end up much more uniform in color and finish, as the whole floor is done in one fell swoop. If you are completing one room and want to match the wood flooring in an adjacent room, unfinished wood is much more adaptable and easy to match.
Hardwood flooring contractor in Denver
We are one of Colorado's largest hardwood flooring retailers. We've got a large selection of prefinished and unfinished wood. If you're looking for inspiration, schedule a free consultation with a hardwood flooring craftsman at one of our showrooms in Denver and Evergreen. We'll help you make all the right choices to ensure that the final product matches your style, home, and budget.