Should you install cabinets or hardwood flooring first?
Pros and cons of installation order
Some people like to put on the floor first to duck having to cut the material around the appliances and cabinets. Some even worry that by installing cabinets first, it will be difficult to switch them out later on, as you essentially create a footprint you'll have to stick to during future renovations. You will have to cut the floor to fit around the base cabinets and appliances, which will make installation more pricey and time-consuming. One option around this is to purchase appliances that are not built in.
However, if you're renovating your kitchen, it is important to choose a style you will want to keep for years to come. Finally, putting flooring down beneath the base cabinets offers a clean look and saves you from having to install quarter rounds with your cabinets.
Also, new floors can get scratched during cabinet installation, so this is something to keep in mind as you move on with your project.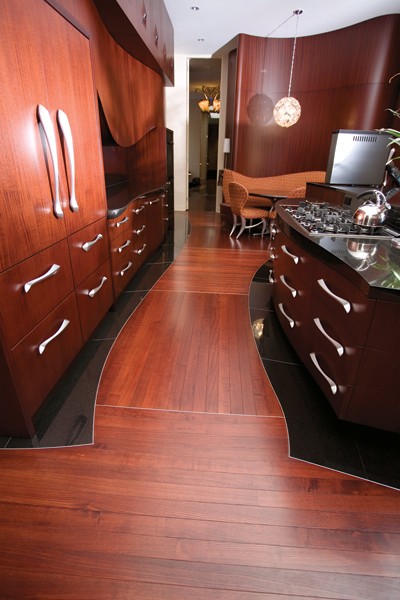 On the other hand, if you decide to start with floors, know that you will be installing the floor under the cabinet, wasting flooring materials. Then, if you choose to replace the floor again, you will have to take out the cabinets as well, which makes the replacement more expensive in the future,
Finally, the material you choose may also affect the order of your installation. Hardwood flooring contracts and expands with temperature changes and moisture, and it needs room to do this freely. Installing floors beneath cabinets could prompt the wood to buckle when it tries to expand, which will damage your new floor.
Contrary to that, if you decide to start with cabinets, it allows you to avoid many setbacks. For starters, you won't waste money and time on a floor you won't see. It is less likely you'll damage your new floors.
There are always pros and cons to each installation process, though there are far more risks if you decide to go with the floors first.
Whichever option you choose, let us be your partner in crime. We want to be a part of your renovating project. Contact us today, and we will assist you every step of the way.