Every room deserves a hardwood floor. However, not every room can handle the same type of hardwood floor. So, if you're looking to find the perfect hardwood floor for each room in the home, let's take a look at the different considerations you should make before making a final decision. Hardwood floors are classic and versatile and will last forever, so you want to make the right choice from the beginning.
Solid or engineered hardwood floors
The two main choices for hardwood floors are between solid and engineered. Both can create a floor that will fit the style of your home or the style of the room. Hardwood floors can be modern, rustic, sophisticated, elegant, and everything in between. However, every room has a different purpose, and you need to think about how each room is utilized to make the right choice for solid or engineered.
Location
Foot traffic
Purpose
Location
The location of the room will play a part in choosing the right flooring. The upstairs room that doesn't see as much foot traffic would look great with solid hardwood floors. However, if you're turning your basement into a living area, you're going to want engineered floors. Solid hardwood floors are not great in basement rooms. The same is true for your bathrooms and kitchen. Any room with high moisture levels is going to call for engineered floors, rather than solid hardwood.
Foot traffic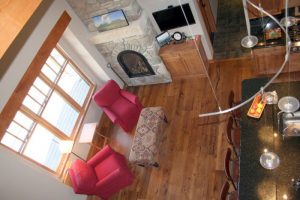 For rooms with a lot of foot traffic, you may want to choose a more durable type of hardwood, namely engineered. However, solid hardwood floors can easily be protected with a finish that will leave it durable and able to resist a lot of wear and tear, even from your pets. Although both solid and engineered floors can be refinished if necessary, solid hardwood floors can be refinished more times than engineered flooring. If you wear out your engineered floors, there is a limit to how many times you can fix them before you have to replace.
Purpose
The type of flooring you choose is also dependent on the purpose of the room. For a large entryway or foyer, think about choosing interesting installation patterns, like parquet flooring and herringbone patterns. The installation that you choose, as well as the type of wood, colors, and finish, will help you make the right statement for each room
Hardwood flooring retailer in Denver
At T&G, our craftspeople can help you make the right decision for every room in the home. We'll help you choose the type of flooring, the type of wood, the color, the patterns, and the installation method so that you can enjoy a lifetime of beautiful hardwood floors.